Reality check: it's 2016, your social media presence has become a part of your brand.
The content – and the quality/quantity of your content – reflects your company. In a lot of circumstances, it's your audience's first impression. Unless your brand specializes in the fields of bad photography and pixelated inspirational quotes, it's important to tackle your social presence from a more strategic perspective.
Where Do I Start?
Generating content can pose a challenge. If you're confused on how to get started, ask yourself a few questions:
Do I want to show posts of how my users engage with my brand?

How can I portray the way my brand feels through social media?

What makes for a good photo?

Do I need to hire a photographer?
Engagement
Social media is a great way to interact with your users on a more personal level. The ultimate goal is to have your customers feel a sense of ownership when it comes to your brand. Asking questions in your posts offers your audience an opportunity to respond. Let them join in on the conversation and feel excitement around your brand. This is especially important on Facebook and Twitter, which reward replies and clicks.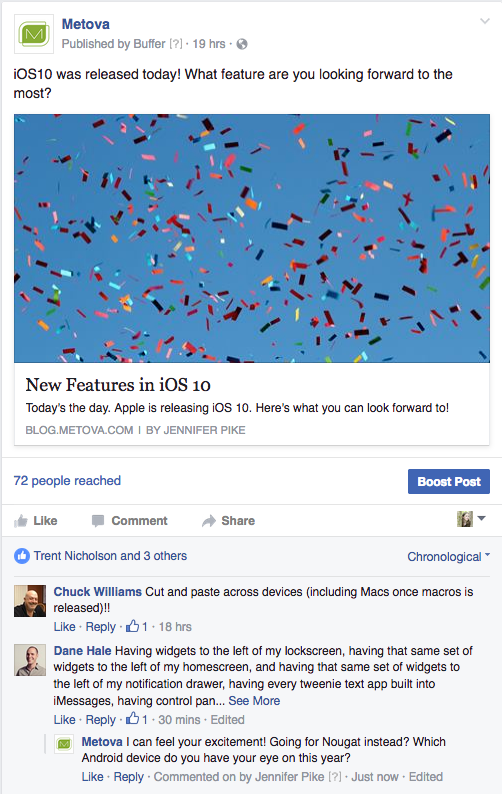 Look and Feel
Your social presence should be an extension of your visible brand. The key here is consistency. This is especially important on platforms like Instagram and Snapchat.
Create brand guidelines for your social presence, and follow them strictly. Your overall vibe will be to attract new users, while keeping your existing users engaged. The best brands can be recognized by their look and style before the user has a chance to see who is posting.
Know Your Limits
Not everyone is a photographer, or has the time to create an interesting Snapchat story. Create within your limits. It's more important to have quality content within your bounds than posting for the sake of posting. If social media doesn't come naturally to you, consider hiring a professional to create content for you. If you're looking to handle this on your own, there are plenty of resources online where you can learn best social media practices (psst.. we recommend SkillShare).
Social media can be an incredibly fun way to boost the numbers of your audience. However, this doesn't happen overnight. Taking the time to plan your social presence will make it easier for you in the long run, and create longer lasting results.
Need help with your social presence?