Metova's growth didn't slow down this year. If anything, it took a new direction. Last year we hired 117 new employees and opened a new office. This year, while we still did quite a bit of hiring and opened yet another new office, we also broadened our involvement in local educational programs as well as acquired some new companies to expand what we can offer to our customers.
Fayetteville
Arkansas Governor Asa Hutchinson has been working hard to grow Arkansas into a technical hub. Metova has been a commanding force in that effort and has provided numerous jobs in the state. At the start of the year, we opened our third office in Arkansas. With colorful local culture, access to the largest college in the state, and growing innovation community, Fayetteville was the obvious choice. The beautiful Metova Fayetteville office was planned out by our designer, Alexa Williams, and can be found in the E.J. Ball building on the historic downtown square.
Supporting the Next Generation of Developers
With Governor Hutchinson's successful efforts in bringing more tech companies to the state, there are plenty of jobs available. In fact, we, along with Acxiom, JB Hunt, Ensono, and Rockfish have committed to hiring at least 100 new tech employees each year.
Office at University of Central Arkansas
One of the things we love about having an office in Conway is its proximity to the University of Central Arkansas. We have built a wonderful relationship with them and together we are making a concerted effort to provide students with the knowledge they will need after graduating in the technology field.
In June, Metova created an intern office on the UCA campus. The office is always staffed during the week with Metovians who are happy to help mentor students and answer any questions they may have. Having an office on campus allows UCA interns to easily work in between classes without ever needing to leave campus. We hope that the collaboration makes a Metova internship more appealing for UCA students, as well as makes things easier for those students who do go with us for an internship.
Arkansas Coding Academy
We also partnered with the University of Central Arkansas to establish the Arkansas Coding Academy. The program has both 3 month and 6 month courses whose credits can be used toward a degree at UCA. Arkansas Coding Academy students are immersed in a hands on approach while learning skills such as building flexible user interfaces for multiple device operating systems including Android and iOS, developing and debugging applications, and more. These skills will help them fill the jobs that are being created by the multiple tech companies Governor Hutchinson's efforts have brought to the state. Learn more by visiting ArkansasCodingAcademy.com
Expanded Services and New Divisions
CyberCENTS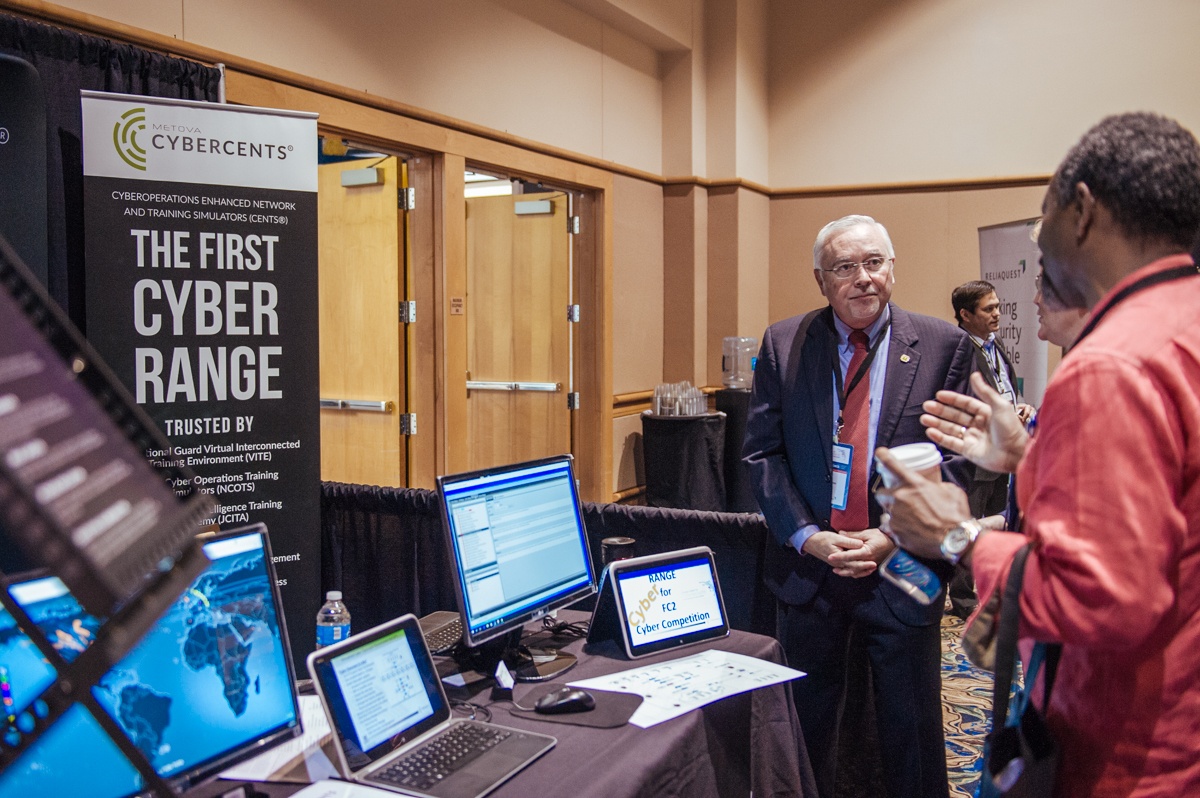 Early this past year Metova Federal acquired CyberCENTS. CyberCENTS is an innovative cybersecurity entity that offers the best technology available for protecting you from a cyber attack. Through this acquisition Metova CyberCENTS brought new exciting tools to the table such as CENTS® and SLAM-R®. CENTS® or Cyberoperations Enhanced Network and Training Simulators, is an effective suite of tools developed to prepare for even the most sophisticated cyber attack. SLAM-R® cyber range is an electronic environment that emulates a real world computer and network workspace providing a safe learning space for Cyber professionals to train and learn how to defend the network. This technology has impressive implications and has been utilized by the U.S. Military. Metova is extremely excited to have welcomed the CyberCENTS team to the family. For more information about the exciting things that CyberCENTS has done this past year be sure to check out the articles below:
Metova CyberCENTS Announces SLAM-R® Update
Metova CyberCENTS Granted Patent for Cyber Attack Engine
We Equip the World's Next-Gen Cyber Defenders
CyberCENTS Sponsors ITEN Cyber Competition
Metova Solutions
In today's ever connected technology-scape the military isn't the only group of people that are open to the potential threat of a cyber attack. Because of this, we decided to expand upon our new cybersecurity division and created Metova Solutions, a provider of military-grade cybersecurity technologies, training, and hardware for corporations and institutions. The commercial implications for the use of advanced cybersecurity technology are endless and Metova Solutions is prepared to fill that void with a commercially minded team of technology experts. For more information on Metova Solutions check out our formal announcement and visit MetovaSolutions.com.
Clocktower Media
Metova once again expanded its service offerings this year by bringing Clocktower Media onto the team. The acquisition of Clocktower Media, a web development and marketing firm, not only allows us to offer new services, but also brings a new exciting location into the mix with a Seattle, WA office. In addition to website design and development which we already provide, new exciting services such as online marketing, consulting, and strategy are now offered.
Our new marketing and strategy team is founded on the principle of continuous improvement. In order to remain competitive and successful in today's rapidly evolving mobile and web environments you must be completely prepared to reach your audience where they are and put your best foot forward with regards to your online presence. By utilizing the Metova Marketing & Strategy Team in addition to development services, you can be confident in the success of your project. If you're interested in learning more about Metova's marketing and strategy services feel free to reach out to our in-house experts today.