WWDC 2016 was a software centric show that introduced lots of new user facing features as well as provided developers with many new APIs to plug directly into system apps. All four of Apple's major platforms received updates, which will be publicly available this fall. Check out what's new!
macOS Sierra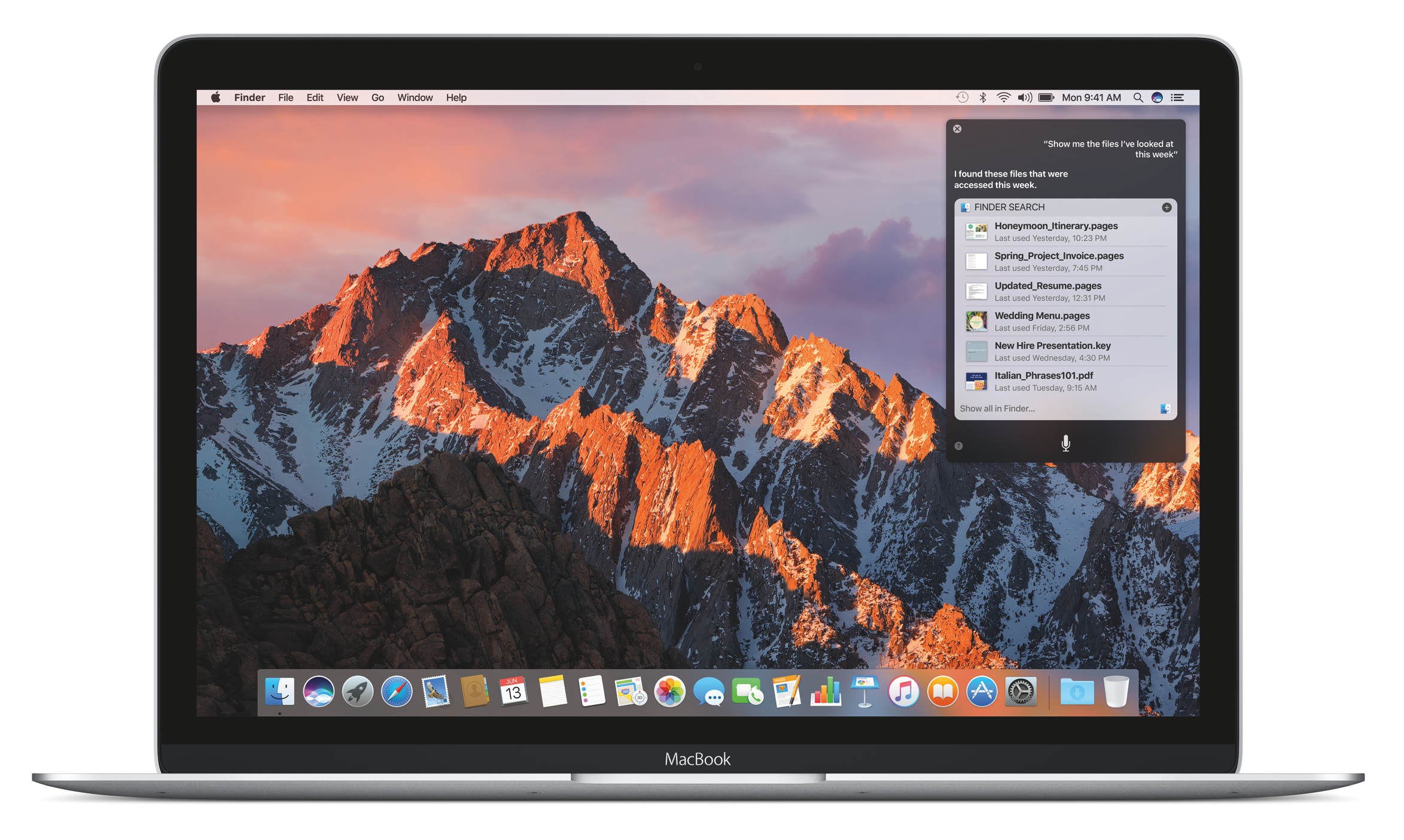 macOS Sierra is here and it brings a ton of new features. Apple has improved overall user experience in macOS. They have introduced a couple of great new user-facing features. Auto Unlock allows someone to unlock their Mac with their Apple Watch for iPhone. Desktop sync with iCloud drive syncs the macOS desktop with iCloud Drive. Sierra also comes with storage optimization features, tabs for all 3rd party apps, and picture in picture video. The biggest new feature for macOS is Siri. Just like on iOS, Siri can take natural language queries in order to provide the user with information they need. Results can be pinned to the events sidebar to be referenced later. They can later be dragged directly into spreadsheets and word editors. macOS Sierra will be a free upgrade this fall.
iOS
Images from Apple
Apple introduced many new features and enhanced the design language in iOS 10. The user experience with iOS 10 has been made more unified by allowing even greater inter- app extensions. Apps like Maps, Messages, and Phone now have extensions that allow 3rd party apps to provide information and actions inside of them, without ever needing to leave the app. The redesigned lock screen and control center make it easier for users to interact with their phone without ever having to enter an app. Siri-powered QuickType allows for more context aware typing predictions. Photos' new 'Advanced Computer Vision' collects and organizes a user's photos in meaningful ways without users having to directly do it themselves. Perhaps the biggest addition to iOS is 3rd party access to Siri. This allows Siri to get smarter and learn more about the user in order to provide information and features in a more proactive manner. Apple has opened 6 Siri APIs that developers can use to plug into Siri. The 6 APIs are: ride booking, messaging, Photo Search, Voip Calling, and work outs. Any app that provides one of these 6 services can offer up information that Siri can use. On the user side, this means messages can be sent from any messaging app, photos can be collected from any photo app, and work outs can be tracked all by just using their voice. Finally, the Messages app received huge amounts of additional features like Digital Touch, speech bubble options, hand written messages, and full screen effects. These features are sure to make messaging even more fun and addicting. iOS 10 will also be available for free this fall.
tvOS
Image from Apple
The biggest improvement for Apple TV users is Live Tune In. With Live Tune In, a user can just tell Siri what they would like to watch and Apple TV will display it. Apple also announced a slew of new video apps including Sling and Molotov and new game apps like NBA2k and Sketch Party. To make using those new apps easier, single sign on was introduced that will allow a user to only sign in once to use TV network based apps. Developers were given new tools like ReplayKit for recording and sharing on screen gameplay, PhotoKit for accessing a user's photos, and HomeKit so that a user's HomeKit devices can be controlled from the TV. The iOS Remote app also received a redesign to make it as powerful as the newest Apple TV's remote. Lastly, a nice dark mode was introduced to make viewing the Apple TV UI more pleasant on the eyes in a dark environment.
watchOS
Images from Apple
watchOS 3 focuses on app performance improvements; something that was direly needed. In order to be more responsive, watchOS apps now have ability to refresh in the background and remain in memory even when not in use. This allows a user's favorite apps to always be up to date on launch. In coordination with faster performance, Apple has made navigating watchOS 3 much simpler and faster. The side button can display a user's favorite apps and swiping up from the watch face accesses the control center. Quick responses for messages are now displayed right below the message preview. Users can even write out words, one letter at a time, in a response. Changing watch faces is as simple as swiping edge to edge on the display and new watch faces make personalizing your Apple Watch even more fun. In addition to these changes, Apple has redesigned many of their own apps, including Activity, and has added a new app for reminders. watchOS 3 will be released this fall, for free, to all Apple Watches.
Conclusion
At WWDC 2016, Apple highlighted what they do best: integrate their various platforms into one cohesive ecosystem. The continuity across all of Apple's platforms makes the user experience superb by simplifying many common tasks performed on Macs, iOS devices, and Apple TVs. iOS 10, macOS Sierra, watchOS 3, and tvOS all join together in helping users manage their digital lives.