The most exciting event of the year is almost here (most exciting for Apple developers at least)! On Wednesday, Sept 9th, Apple will unveil next year's worth of hardware that runs its mobile platform, iOS. Here is what we expect to see.
iPhone 6s & 6s Plus
In conformance with their past established pattern, Apple is set to unveil the iPhone 6s and iPhone 6s Plus. In the past, the 's' model iPhones have retained the same design as the previous year while beefing up the internals…and that's what we expect to see this year. The 6s and 6s Plus will likely boast a 12mp iSight (rear) camera with 4k video recording capabilities. The FaceTime (front) camera will get a new 5mp sensor with 720p video recording, slow-mo video support, and panorama mode. The phone's aluminum casing will be made out of the same 7000 series aluminum Apple debuted with the Apple Watch Sport. It will also be ~0.1-0.2 mm thicker than the iPhone 6 models due to the addition of Force Touch (rumored to be renamed '3D Touch'), another Apple Watch feature that is making its way across Apple's other device. A new Rose Gold color option will debut with the 6s' while keeping the same 16/64/128gb storage capacities from last year. Apple will move to a quad-core chip with the A9, which is expected to carry a bump in RAM for a total of 2gb.
Apple TV
Perhaps the most exciting part of this year's September event is the expected introduction of a brand new Apple TV. Hardware-wise, it is expected to be similar to the current Apple TV, though maybe a little thicker and wider. The new remote will have a touch sensitive, trackpad-like area along with a microphone which will allow the user to activate Siri. Siri is rumored to be the main way for the user to interact with the new Apple TV, allowing users to play a movie by saying something like "Hey, Siri, play Avengers: Age of Ultron" or search for a certain type of media by saying "Hey, Siri, show me comedy TV shows." Speaking of search, the new Apple TV will support universal search, so a user no longer has to go to each app to attempt to find the TV shows or movies they want. Apple's long rumored TV subscription service will not be debuted this year, but is expected to be ready sometime in 2016.
iPad Pro and iPad Mini 4
Also expected to be debuted at this even is a larger 12.9 inch iPad Pro with a 2732 x 2048 display. It is expected to have dual speakers, a stylus, and even a USB port. iPad Pro will be the perfect device to utilize iOS 9's new iPad multitasking features, split screen and pip video. Along side the iPad Pro, the iPad Mini 4 will also be debuted. It is expected to be shrunken version of the iPad Air 2, with an A8 processor and improved cameras over the iPad Mini 3.
Apple Watch
Rumors point to Apple introducing new Apple Watch Sport band colors, similar to the ones Jony Ive showed off at Milan's Salone Del Mobile Design Fair in Italy earlier this year.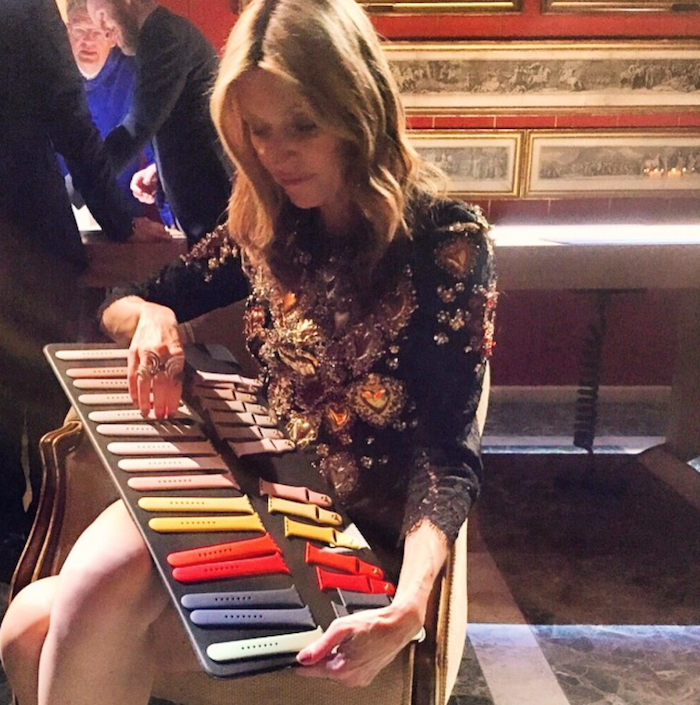 Umberta Gnutti Beretta looking at Apple Sport Watch Bands in Milan. Source: Instagram via idownloadblog
Conclusion
As usual, Apple is steadily improving their products and we will see the next iterations on September 9th. New iPhones and iPads will no doubt kick off good holiday sales for the company. Importantly for mobile developers, the new devices will open up new ways of interaction that will make apps more powerful and useful than ever.