People use their phones for everything now: working, gaming, surfing the Internet, keeping up with the news and staying in touch with friends. You probably use it to even check the time. You receive e-mails, phone calls, text messages, app notifications, weather alerts, and traffic alerts. The number of times you reach into your pocket or dig through your Mary Poppins-esque purse in a day to get your phone is staggering. It would be easier to just duct tape the thing to your hand…
The Simple Life
Simplify the things you use your phone for most. Apple Watch is best used for any brief action that you would use your phone for. See notifications at a glance to quickly determine if the intrusion is worth your time. Siri is easily accessible and can manage some of the more interaction-heavy tasks such as making appointments, finding answers to questions, and sending messages.
Measure All the Things
Apple Watch comes with several sensors such as an accelerometer, heart rate monitor, and gyroscope. Being able to measure health statistics day after day and week after week opens up more possibilities for applications focusing on the quantified self. By being able to see your habits, you can more easily evaluate them and make plans to better yourself.
Connection
The Apple Watch relies heavily on the connection with your iPhone and related applications. If you want to purchase an app for the Apple Watch, you will do it through the App Store on your iPhone. For most applications, the Apple Watch's primary purpose is to offer the user a glance at timely information. To put more clearly, Apple Watch applications can be thought of as extensions of their larger, parent iPhone apps.
There are a couple of features that don't require a nearby iPhone to work. Apple Pay will store a token that can be used as a card number with compatible payment terminals while away from your phone. You can listen to music and count your steps while going on a run without having to strap your phone to your arm, carry a fanny pack, or shove it in your bra. What some may argue as the most important feature to have on a watch can also be used independently. Yes, the time, alarms, stopwatch, and other traditionally watch-y features can be used without being anywhere near your phone.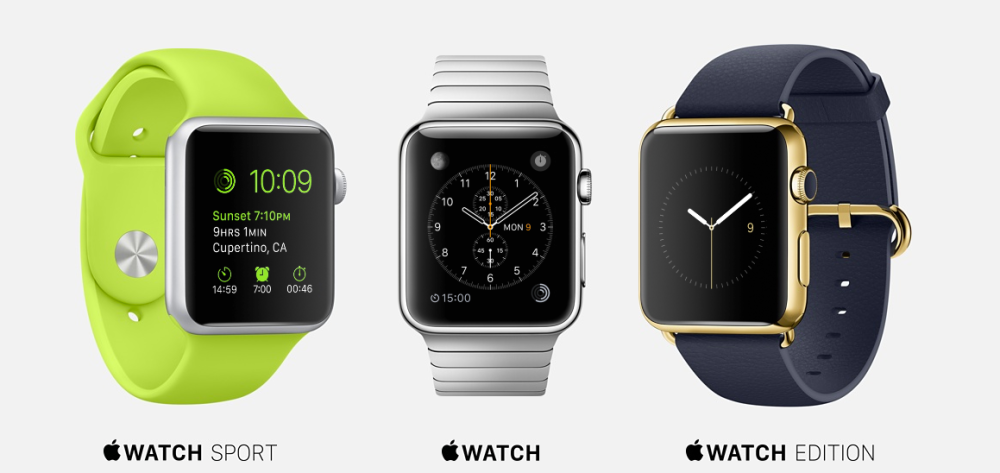 Express Yourself
Don't think that a smart watch is quite your style? Think again. The Apple Watch offers three different models from sporty to luxurious. The Sport collection watches are made with strong, lightweight materials and have a band that comes in five different fluorescent colors. For those with a little extra money floating around, there is the Apple Watch Edition collection. The cases are made from 18-karat gold and the screens from sapphire crystal. Apple Watch Edition bands also come in several high quality varieties. For the traditionalists, Apple offers a variety of watches in good 'ol stainless steel and leather in their simply named Apple Watch collection. If I were to jump on the iOS bandwagon, I would be wearing this on my favorite arm.
The Price is…
Let's get to the question on everyone's mind. How much does one of these things cost? The Apple Watch Sport starts at $349. Moving into the next bracket is the stainless steel "Watch" collection. These start at $549 and go up to $1,099. Now you may want to take a seat. If you want an 18-karat gold Apple Watch Edition, you will need to fork over somewhere between $10,000 and $17,000. There will be a limited supply of these glamorous watches so start saving!
Save the Date
Friday, April 10th- mark it on your calendar. That is the day the Apple Watch can be pre-ordered. It is also the day when Apple will have them available for trying out in-store. Then it is time to set your calendar alerts for the 24th, Apple Watch's official release date.
Tell us your thoughts on the Apple Watch! Are you getting one? You can find us on Twitter, Facebook, or Google+!